about paradise beach
Paradise Beach is situated on the island of Sal, located approximately 15 minutes by car from Sal International airport. The site comprises of 283,000 square metres and is positioned directly on the beach front approximately 1Km from the existing dual carriage motorway that runs from the North to the South of the Island. Enjoying a tranquil location with extensive sea and landscape views and with direct access to the beaches, the Paradise Beach site has one of the foremost luxury residential development locations on the Island. In addition the site is particularly well located between the town of Santa Maria to the South and the holiday village of Murdeira to the North that offer extensive social amenity facilities to residential property owners and occupiers.
The site is directly serviced by the new coastal road, currently under construction between Mudeira and Santa Maria. The construction of a new promenade footpath/walkway, with street lighting along the beach front serves to further add to the outstanding potential of the site. The site is approximately 15km from the main town of Esparagos to the North and 15 minutes walking distance from the Tourist Town of Santa Maria, offering tourists an extensive range of bars, night clubs and quality restaurants.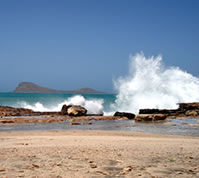 The Paradise Beach Project Architectural designs have been undertaken by PRC [Paige, Rutter, Cahalane] an International Practice of Resort and Residential specialist Architects based in the United Kingdom. Paradise Beach is a Residential and Commercial Developme nt comprising:
Luxury Detached Villas
Semi Detached Villas
Penthouse Duplex Apartments
2 Bedroom Apartments
1 Bedroom Apartments
Commercial and Retail Units
Luxury Hotel
Additional facilities will include 12No. Communal swimming pools, a water sports centre catering for activities such as wind surfing, scuba diving, deep sea fishing and sailing.
Construction Statistics:
These statistics are provided to enable the reader gain a better understanding of the enormity of this development.
| | | |
| --- | --- | --- |
| DESCRIPTION | TOTAL | EQUIVALENT |
| Site Area | 240,000m2 | 19 Football Pitches |
| Total Number Of Units | 837No. | |
| Soil Movements | 220,000m3 | 440,000 Buckets |
| Reinforced Concrete | 38,863m3 | 4,900 Lorry Loads |
| Blockwork | 149,252m2 | 1,865,650 Concrete Blocks |
| Doors | 5,479No | 10,355m2 |
| Windows | 3,119No | 4841m2 of Glass |
| Paint | 364,617m2 | 24,307 litres of paint |
| Roof Tiles | 28,810m2 | 207,266 roof tiles |
| Wall / Floor Finishes | 117,986m2 | 10 Football Pitches |
| Plaster | 364,617m2 | 1,397 Tennis Courts |
| Skirtings | 68,530m | 211 Eiffel Towers |
| Swimming Pools | 3,624m2 | 3 Olympic Swimming Pools |
| Kerbing | 6,362m | 90 Jumbo Jets |
| Pipes for services | 14,947m | 5.5 Golden Gate Bridges |