Cape Verde is an unspoiled tropical paradise which will invigorate your senses and relax your soul. The pure warm water one hour south of the Canaries is home to Cape Verde, a very different group of largely undiscovered tropical islands. With a year round warm climate, hospitable people and a stable environment, this sleepy hide away offers an opportunity like no other to cut off from the real World.
Rhododendrons, fire trees and corn plants decorate the horizon while dolphins, whales and turtles coexist with the coral in the clear water around its shores. Largely hilly and lush, some of the islands of the Cape Verde archipelago are quite flat, with white sand as far as the eye can see.
Rich in African, Mediterranean and Latin influence, this former Portuguese colony has thoughtful development and environmental conservation mapped as part of a grand plan to introduce the benefits of its 'real paradise' to the World.
Paradise Beach will significantly change the development landscape in Cape Verde, bringing new standards in design, quality and content to the market – creating a home away from home for astute investors.
With a Moorish architectural influence and extensive landscaping, including walkways and gardens of tropical plants, this striking development will rate amongst the best in Cape Verde.

FOR UPDATES, PLEASE CONTACT LAURA POWER AT PARADISE BEACH
Winners of The africa property Awards Revealed in Dubai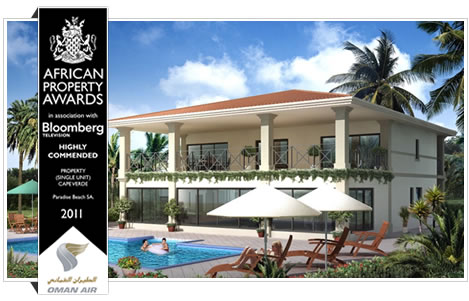 Africa's premier property developers gathered at The Burj Al Arab in Dubai on Thursday (November 17th) for the announcement of the winners of the hotly contested Africa Property Awards in association with Google and Bloomberg Television.
Laura Power of Paradise Beach SA, was there in person to receive the two property awards awarded to Paradise Beach Resort for the frontline luxury detached villas as well as for the development overall. Please see our website www.paradisebeach-capeverde.com for more information.
These awards, combined with the other regional awards' programmes for Europe, the Americas, Arabia and Asia Pacific, form the globally renowned International Property Awards. Regarded as the world's most prestigious property competition, residential as well as commercial categories are covered. Judging is carried out through a meticulous process involving a panel of over 80 experts and covering every aspect of the property business.